Skip to Content
Certified Appraisers Exchanging Your Items for Cash
We pride ourselves on not just being another cash exchange for gold company. When you bring your items into Silver and Gold, you're getting a service provided to you. Whether you're in need of quick cash, saving up for something, or just cleaning out your old collection, bring your items to our trusted and certified specialists. We walk you through our simple and easy-to-use process and get you on your way with cash in hand. We buy all assortments of different valuables and jewelry. Stop in today to get your items appraised.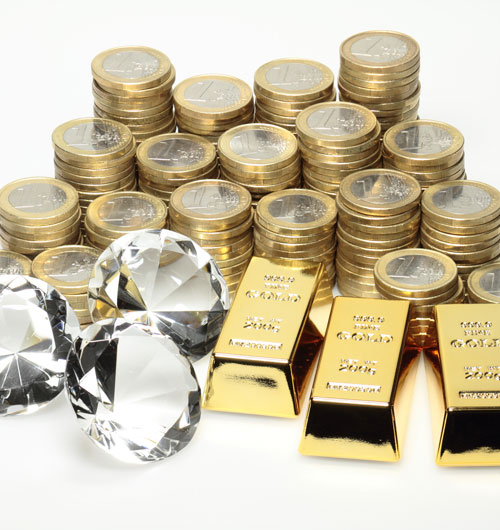 We buy all sizes from .05 and up! Diamonds come in a multitude of cuts, sizes, clarity, and colors. Our trained team of specialists will analyze your diamonds and provide you with a fair price.
Have a large selection of collector's coins? Bring them into Silver and Gold today to see what they're worth. You could be unknowingly sitting on a fortune!
As watches come in and out of style, sell your older luxury models for some extra cash to invest in a new one. We buy any types of name brand watches including Rolex, Tag Heuer, Omega, and many more.
We purchase gold of all shapes and sizes from bracelet and lockets to gold bars and ingots. We even invest in broken or unrefined gold. If it's gold, we'll find a price for it.
Similar to gold, we pay cash for all types of silver. Bring in your unwanted collection today and get paid for your forgotten items.
Platinum jewelry can yield a surprisingly high amount of cash. Upcycle your old unwanted items and get paid for it!
Do you have a collection of gift cards you won't use? We buy most name-brand cards for cash! Go buy something you really want.
Fair Prices for All Your Valuables
Whatever you're bringing in, we'll take a look at it and give you a fair price. Our friendly and reputable staff in Northern California is happy to answer any questions you may have. Make cash today for your unwanted valuables that have been sitting in the back of your closet for years.
The Best Deals for Your Silver and Gold. Guaranteed!